07 May

Custom Funerals and Memorials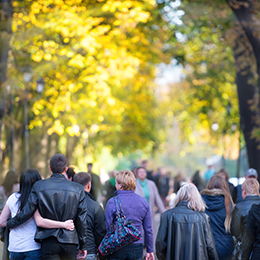 There is a big trend towards hosting your own custom funeral or memorial. The biggest benefit is getting to create a service that perfectly reflects the life and uniqueness of your loved one. Often when traditional funeral homes plan a service, they tend to follow a traditional funeral program with hymns, scriptures, and words from a minister or chaplain. Although there's nothing wrong with that, it's also not required.
But that doesn't have to be the case. Here are some things I've seen, heard about, or read that change a typical funeral or memorial service into a unique celebration of life.
Outdoor services
If weather allows, consider having an outdoor service, especially if your loved one enjoyed the outdoors. You don't have to spend a lot of money either. For instance, to rent a park pavilion in Plano, Texas for as little as $50 for 6 hours which gives plenty of time for setting up and cleaning after the memorial. Many party supply places rent chairs at very reasonable prices or you can create a casual gathering without them depending on how you think the service should be set up.
Think fellowship, not funeral
Especially in the south, when we fellowship with others, there's always food involved. That's how most of my friends grew up as well. A personalized memorial is a form of fellowship. It's people coming together that share something in common. In this case, it's the love for the person who passed or members or their family. So why not treat it as a fellowship?
I held one of these special services for my own mother. All my life we had various family celebrations at a small Chinese Food restaurant called Canton. My mother loved it there. The family who owned it, loved my mother. And it holds so many great memories of past birthday dinners, graduations, and holidays. It seemed only natural to spend time with family and friends celebrating her life there. It turned a very sad time for me into a wonderful time of sharing and remembering.
Including a time of sharing
Decide what your goal for the service is. Do you want a well-planned, prepared message from a minister or a close friend? What about having a "master of ceremonies" instead? Or perhaps some of both. And, don't be afraid to ask people to limit their time. If you want time for both, you can ask the minister to limit his remarks to about 10 minutes to leave time for a few family members and friends to speak.
My tip is to ask 2-3 people in advance and ask them to talk for 5 minutes each. I even go as far as to specify the topic. This will help make sure various areas of their life are covered in an appropriate way. For example: Ask someone to share memories about them as a young person. Perhaps a longtime co-worker talking about their time working together. Then end with someone speaking about their later year including special vacations, time with children and grandchildren. This provides a wonderful overview of their full life, not just a few years.
There is so much you can do when you choose to personally plan a custom funeral or memorial. aCremation has created a guide to help in the planning of a service. Request yours today. You can also call and make FREE pre-arrangements for the simple cremation (also called direct cremation) of yourself or a loved one.
About aCremation
aCremation is a licensed funeral establishment specializing in direct cremation throughout North, Central and South Texas. We have an A+ rating from the Better Business Bureau. Our team of dedicated, compassionate professionals are available around-the-clock to assist with making cremation arrangements and to answer any questions. aCremation currently serves Dallas, Fort Worth, Houston, Austin, San Antonio, Tyler and Waco. We invite you to call us, toll-free at 877-353-3626.