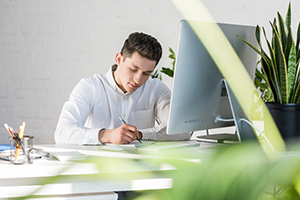 aCremation provides obituary guidelines to help you write and post your obituary. Below are templates, general writing guidelines, and information on professionally written obituaries.
Carefully read all the material, then determine what is the most important to include. Remember these are suggestions and it is unlikely all of them are appropriate for you.
Obituary Templates
aCremation has two fill-in-the-blanks obituary templates to assist you. There is a very brief version (typically used for paid announcements in newsletters). A lengthier version which is frequently used for online and non-paid publications.
Obituary Guidelines
ANNOUNCEMENT

Deceased's full name, including well-known nickname, (if any) followed by a comma and age at death. (You do not need to say "age".) For example, Mary Alma Miller, 82.
Residence (name of the city) at death. Do not use specific street address for the deceased.
Day and date of death.
Place of death (if appropriate). Some may wish to mention where the deceased died such as, "at his family home in Plano, Texas".
Cause of death (if appropriate).

LIFE STORY

Date of birth.
Place of birth.
Names of parents.
Childhood: siblings, stories, schools, friends.
Marriage(s): date of, place, name of spouse.
Education: school, university or other.
Designations, awards, and other recognition.
Employment: jobs, activities, promotions, union activities. Frequently used if the person held long-term employment with a company; or had a particular passion for his or her profession. List job function or title, name of company and number of years employed.
Activities: hobbies, sports, interests, charitable, fraternal, political, and other affiliations. List memberships, positions held; clubs, volunteer work or noteworthy accomplishments.
Religious Affiliation
Military Services: List the dates and branches of service as well as number of years served.

FAMILY

Survived by (and place of residence):

Spouse
Children (in order of date of birth, and their spouses)
Grandchildren / Great-grandchildren / Great-great-grandchildren
Parents / Grandparents
Siblings (in order of date of birth)
Others, such as nephews, nieces, cousins, in-laws
Pets (if appropriate)

Predeceased by (and date of death):

Spouse
Children (in order of date of birth)
Grandchildren
Siblings (in order of date of birth)
Others, such as nephews, nieces, cousins, in-laws
Pets (if appropriate)

MEMORIAL

Day, date, time, place (if applicable)
Reception information if applicable: day, date, time, place
Other memorial or vigil, if applicable: day, date, time, place
Place of inurnment
Where to call for more information (even if no service planned)

CLOSING

Memorial funds established
Memorial donation suggestions, including addresses
Thank you to people, groups, or institutions
Quotation, poem
Back to Obituaries