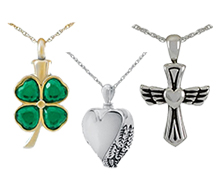 29 Jan

Choosing Cremation Jewelry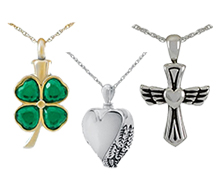 Many families seek out special ways to remember loved ones after our services have been rendered. As cremations become more popular in Texas and around the U.S., choosing cremation jewelry can leave you with a staggering array of choices.
In our most recent blog entry, we discussed the two general types of cremation jewelry, those that hold remains, and those made with remains. It also said, "the possibilities are endless." I didn't like leaving you hanging like that, so let's explore this topic deeper. This won't be a complete list by any means, by I wanted you to have a better idea of what's available.
Choosing cremation jewelry means considering necklaces, pendants, lockets, bracelets, rings, beads, and charms. Materials used to make them range from metals such as gold, sterling silver, titanium, copper, pewter, and stainless steel to glass, ceramic, porcelain, crystal…even wood and synthetic gemstones.
Speaking of gemstones, did you know cremation remains can become diamonds? They're made in a lab from the carbon contained in human ashes and hair. The carbon is extracted at high temperatures, put under intense pressure, and placed in a growth chamber. Over time (up to several months), crystals form and come together to make a unique diamond that is professionally shaped, polished and mounted in a setting.
As you might expect, this is usually the most expensive jewelry option with costs reaching several thousand dollars or more. But as a major diamond company has reminded us for many years, "a diamond is forever." Other, more modest cremation jewelry choices start as low as $50. It all depends on the material, complexity and craftsmanship of the item you choose.
At aCremation, jewelry is not our specialty, but we're happy to point you in the right direction and share our extensive knowledge about the industry. And with the money families save on direct cremation, perhaps nice keepsake jewelry will be more possible. The first step is to call us at 877-353-3626.
About aCremation
aCremation is a licensed funeral establishment specializing in direct cremation throughout North, Central and South Texas. We have an A+ rating from the Better Business Bureau. Our team of dedicated, compassionate professionals are available around-the-clock to assist with making cremation arrangements and to answer any questions. aCremation currently serves Dallas, Fort Worth, Houston, Austin, San Antonio, Tyler and Waco. We invite you to call us, toll-free at 877-353-3626.