State Regulations
Each state follows the Federal Funeral Rule which exists to protect consumers purchasing funeral or cremation services. In addition, they have their own set of regulatory bodies and state-level regulations.
aCremation is a licensed funeral establishment in the State of Texas (License # 4237)
State Regulations – Texas Funeral Service Commission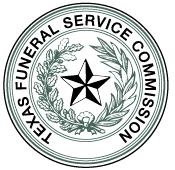 The Texas Funeral Service Commission (TFSC) is state-level governing body for the funeral and death care industry. Their jurisdiction covers funeral establishments (including cremation service providers like aCremation), crematories, and cemeteries.
In addition creating and enforcing the State funeral laws, they also conduct regular inspections, handle the licensing of funeral establishments, crematories, cemeteries and funeral directors.
If for any reason, you have a concern about funeral laws in Texas or a funeral establishment, you can contact them directly.
Texas Funeral Service Commission
Mailing Address: P.O. Box 12217, Austin , TX 78711
Physical Address: 333 Guadalupe Street, Suite 2-110, Austin, Texas 78701
Phone: 512-936-2474
Fax: 512-479-5064
Toll free: 1-888-667-4881
E-mail: info@tfsc.state.tx.us