Submitting Obituaries for Publication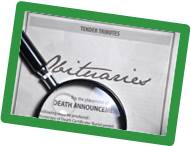 In order to continue offering the most affordable cremation services possible, aCremation asks families to submit obituaries directly to publications.
Guidelines for submitting obituaries:
Deadlines – When contacting a publication (whether print or online) be sure to confirm the time of day when submissions from individuals are due because they vary by publication. Some have a noon deadline for it to run the next day. Many publications have timelines for how long after the death they will publish obituaries (typically within 30 days).
Costs – Obituaries (also called Death Notices) are typically considered a form of classified ad. As a result, you will be charged based on the length of the obituary. If there is a charge, you will be asked to pay for the notice in advance.
Verification – aCremation will gladly speak with publications requesting verification from a funeral home/crematory.