29 Nov

Hospice Heroes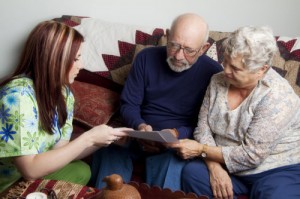 This week ends one of the best national recognition months – National Hospice Palliative Care Month. Although many are not aware of its existence, there couldn't be a more impressive and valuable group to recognize. Learn more from the National Hospice and Palliative Care Organization (NHPCO).
More patients than ever are benefitting from hospice care before their death – an estimated 1.65 million in 2011. Eight out of 10 Americans would prefer to be at home at the end of life, and hospice makes this happen.
Hospice Prepares Families Too
Not only does hospice care prepare the patient for the end-of-life process, it also assists the family in coping with the death of a loved one both emotionally and practically.
Many families have a strong relationship with their hospice provider, frequently contacting us along with the social worker, chaplain or bereavement coordinator to make arrangements. What it demonstrates is that hospice care goes far beyond the patient's physical needs.
Don't Wait Until Next Year
Every person affiliated with a hospice brings assistance and care to the families they serve – Whether they are a nurse, chaplain, social worker, administrator, bereavement coordinator or volunteer. Being in cremation service industry, I work with hospices regularly and see the difference they make. This unique group of people is so passionate about that they do, it is truly inspiration. If you know a person who is affiliated with a hospice, don't wait until next November, let them know how much you appreciate them now.
Data Source: National Hospice and Palliative Care Organization