17 Dec

Offering comfort to a grieving friend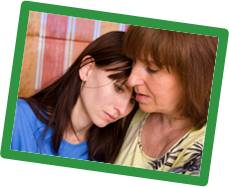 When someone you love loses a loved one, you want to be there for them. But knowing exactly what to say and do is hard. Being afraid you'll do something wrong, or upset them can be stressful. Sometimes you can feel like no matter what you do, it's not going to help. But the key, is not a magic word or special gift, it's in the simplicity of letting them know you care.
You don't need to be an expert
Although counselors may be trained in what to say or how to react, there is no substitute for a true friend and heart-felt sincerity. Grieving individuals go through a full spectrum of emotions including fear, anger, guilt and sadness. Being there to reassure them they are not alone is, at times, the exact thing that provides the most comfort.
As a funeral director with years of experience and formal training, my words of comfort pale in comparison to when I see a childhood friend hug a grieving loved one…and not let go. It's not always about the right words. You don't need to have all the answers or offer advice.
A dear friend of mine lost her mother when she was 15. She told me she had trouble reacting to people who said, "I'm so sorry," saying she didn't know for sure what they were sorry about. So I asked what the most comforting thing she remembered was. Without hesitation, she said it was a boy in her class that came up to her and simply said, "I heard your mom died. That sucks."
I'm not advocating this is appropriate for every situation but for her, at that moment, it was exactly what she needed to hear – although some would have thought it to be totally inappropriate.
Ways of offering comfort
If you feel like you need to prepare for supporting a grieving person, there are many resources about the stages of grief. The best-known is Elisabeth Kubler-Ross', "On Death and Dying."
The Holidays and cold winter months make many grieving people struggle even more. Being a good friend, checking on them regularly, planning activities together, and simply listening are all wonderful gifts you can give them over this difficult season.
Lastly, if you feel they are in a situation that needs professional help, reach out to someone. Should anyone ever mention suicide, take it seriously. And if you feel they are in a life-threatening state, call 911.
aCremation is a licensed funeral establishment specializing in direct cremation throughout North, Central and South Texas. We have an A+ rating from the Better Business Bureau. Our team of dedicated, compassionate professionals are available around-the-clock to assist with making cremation arrangements and to answer any questions. aCremation currently serves Dallas, Fort Worth, Houston, Austin, San Antonio, Tyler and Waco. We invite you to call us, toll-free at 877-353-3626.