10 Nov

My favorite veteran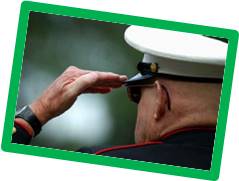 I am extremely thankful for the veterans who honorably served our country and those still doing so today. But I do have a favorite. And as Veterans Day approaches, I always seem to think of him a little more. Please, indulge me, as I know so many families have similar memories brought to the foreground especially this time of year.
My uncle, Herman Vealey Sanders, 1922-2002, was one of eight children. He was married to my Aunt Mary for 55 years and they held hands through all of them. Uncle Herman was a member of the Navy and proudly served our country. He was aboard the USS Shaw that earned 11 battle stars and was in dry-dock during the attack on Pearl Harbor. His time in the service definitely influenced the rest of his life, but "Uncle Herman" rarely spoke of it.
I've often wondered why he chose to not entertain us with his war stories when we were young and would have hung on every word. As an adult, I look back and only guess it was two reasons. First, I know anecdotally that he saw and experienced a lot of ugliness in the war that he knew young, impressionable minds didn't need to hear. That wasn't the picture of the world he would ever want to paint.
Secondly, Uncle Herman did not delight in being recognized or drawing attention to himself. Uncle Herman was an amazingly humble man that let his actions speak for him. He loved God, and his family. He worked hard all of his life, just as he worked hard for our country. Even as he spent his final days suffering from cancer, he still "went to work" at his sons garage helping out any way he could.
Uncle Herman loved the simple things in life. You never saw him more content than when he was asleep in his recliner with a grandchild (or great-grandchild) nestled on his chest. Every Fourth of July, he lined up the nieces and nephews and took control of making the homemade ice cream, carefully timing how long each of us had to hand crank the old wooden ice cream makers. This blog post could easily turn into a book if I even tried to capture all the special memories I have and all the ways he impacted me and so many others.
If I could give out a medal of honor, it would be to Herman Sanders. Not just for what he gave to our country, but what an impression he made on my life and the generations that follow him.
aCremation is a licensed funeral establishment specializing in direct cremation throughout North, Central and South Texas. We have an A+ rating from the Better Business Bureau. Our team of dedicated, compassionate professionals are available around-the-clock to assist with making cremation arrangements and to answer any questions. aCremation currently serves Dallas, Fort Worth, Houston, Austin, San Antonio, Tyler and Waco. We invite you to call us, toll-free at
877-353-3626 FREE.