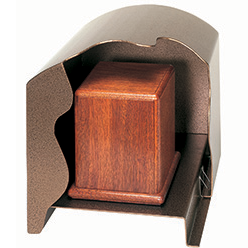 17 Jul

Burial vaults for cremation urns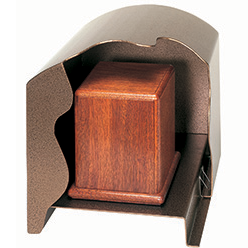 You may know that full-body in-ground burials usually involve a reinforced concrete outer burial container, often called a burial vault. But did you know the same goes for burying cremation urns?
First of all, it's not because of the law. Most states, including Texas, do NOT require outer burial vault containers. However, most cemeteries DO require them to preserve the beauty of the cemetery grounds and to protect their maintenance equipment. Caskets and cremation urns eventually decompose and break down. Without vaults around them, the earth on top of the casket would settle over time.
Although cremation containers are on a much smaller scale, the have the same issues as full-size caskets. Both types of " burial vaults" are made of durable materials. Most common are concrete vaults lined with plastic or metal although solid metal ones are available.
Like many aspects of cremation (and burial, for that matter), the quality of cremation burial containers varies widely depending on what you're willing to pay. They can be very basic and cost less than $200. Although I would check with the cemetery before buying online, I saw you could even purchase one on Amazon for $155. Prices go up for thicker, heavier, higher quality and more ornate containers.
If a cemetery burial is your preference but money is tight, remember you don't have to put a fancy urn in the ground. There is not a legal requirement for a container. If an urn is not purchased from aCremation, a temporary container will be provided. For those who wish, a decorative urn can be purchased for memorialization.
So how deep is a cremation container buried? That depends on the cemetery. Texas Health and Safety Code (Section 714.001.01) states graves using a non-permeable container like a vault, must be buried at least 24" below the surface. In other words, if the container is 12 inches high, then the hole is 36" inches deep. Some cemeteries allow an urn container to be buried in an existing grave and will place it on top of the previously buried vault or grave liner. However, this is not guaranteed and is completely up to the cemetery so I advise you speak to them directly.
For families who like the affordability of cremation but want a permanent resting place in a traditional cemetery, burying the cremated remains is a good option. Our dedicated professionals at aCremation can go over details about the cremation process and answer general cemetery-related questions based on our experience.
aCremation is a licensed funeral establishment specializing in direct cremation throughout North, Central and South Texas. We have an A+ rating from the Better Business Bureau. Our team of dedicated, compassionate professionals are available around-the-clock to assist with making cremation arrangements and to answer any questions. aCremation currently serves Dallas, Fort Worth, Houston, Austin, San Antonio, Tyler and Waco. We invite you to call us, toll-free at 877-353-3626.