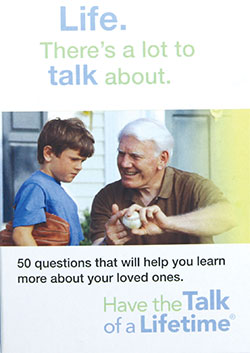 09 Mar

Talking about Death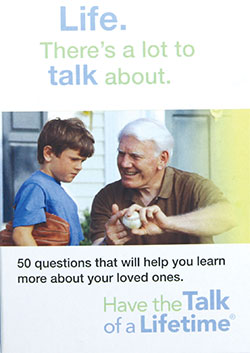 A relative of mine recently found out her father has a terminal illness. They don't have a close relationship but she's the one the family designated for making his final arrangements and talking about death. They live outside of Texas but since I am a licensed funeral director, she asked my advice. I told her the best place to start is by having the "Talk of a Lifetime."
"Talk of a Lifetime" is a program of the Funeral and Memorial Information Council (FAMIC) and is supported by the National Funeral Directors Association (NFDA), the world's leading funeral service association. The concept it simple. It involves sitting down with a loved one to talk about their lives and learn about their most memorable people, places and events. Knowing their favorite activities and experiences often reveals the values and wisdom they gained along the way and helps bring loved ones closer.
The conversation also is a way to get someone to open up about how they want to be remembered. This information is especially helpful when the time comes to plan a memorial, write an obituary, gather talking points for a eulogy, and create a memory book. A natural outcome of the conversation is answers to important questions including whether the loved ones wants to have a direct cremation, cremation with a memorial or traditional funeral and burial.
Finding a way to start talking about death can be the most difficult part. That's why the program provides a free brochure that can help you begin the conversation. You can download it at talkofalifetime.org.
There is also an accompanying free workbook you can use as a place to write the answers or use as a guide during the conversation.
aCremation is a licensed funeral establishment specializing in direct cremation throughout North, Central and South Texas. We have an A+ rating from the Better Business Bureau. Our team of dedicated, compassionate professionals are available around-the-clock to assist with making cremation arrangements and to answer any questions. aCremation currently serves Dallas, Fort Worth, Houston, Austin, San Antonio, Tyler and Waco. We invite you to call us, toll-free at 877-353-3626.